Two new pieces of information today relevant to the ongoing search for Malaysian Airlines MH370: There is a potential location for the black box, and Google Earth now shows recent satellite imagery of the search area in its default layer.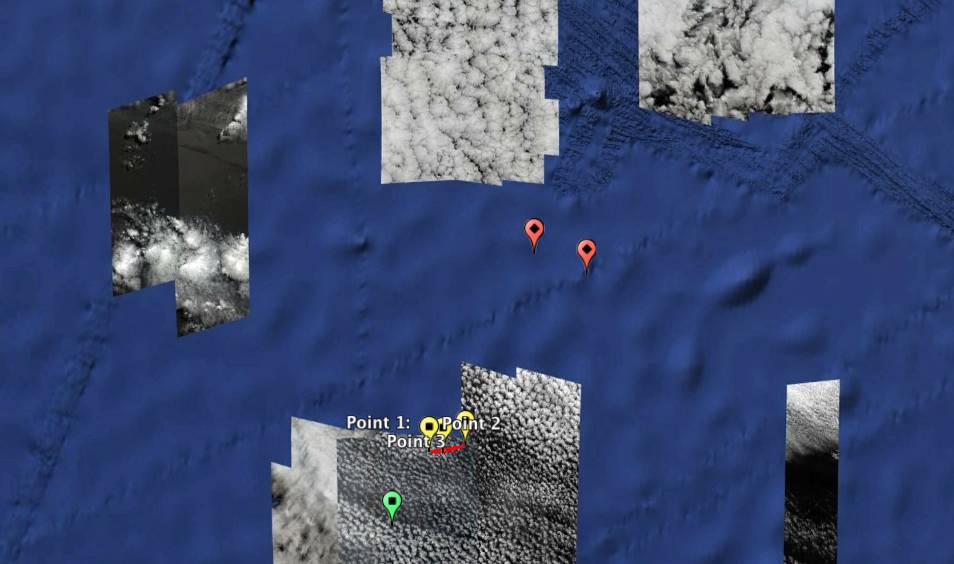 1. Black box heard? A Chinese patrol ship has picked up pings that match those of a black box, both on Friday and again on Saturday, according to China's CCTV. The approximate location is 25°S, 101°E, which is further north than where the bulk of search efforts have been expended so far, but uncannily close to the circumference of the original "ping arc" generated from the Inmarsat-3 F1 satellite, which shows a possible range of locations for MH370 when it last made contact on an hourly basis.
I've now added that rough location to existing data for past searches, and appended the original ping arc and projected reach of MH370. Here is the resulting file, to download and open in Google Earth.
2. Search imagery added: Starting up Google Earth today, I was surprised to find the region of the search displaying very recent satellite imagery, taken taken between March 18 and 31, 2014 as part of the search for MH370. The dates are displayed in the status bar at the bottom of the app, and the imagery is credited to CNES/Astrium, which manages the SPOT satellite program. I don't know how long this imagery has been there, but since there hasn't (yet) been an announcement on Google Lat Long blog, I'm assuming this is a quite recent addition. To see the imagery at its best, turn off the water surface layer. The images are quite contrasty, so you may want to turn up the brightness of your screen.
One thing to keep in mind: The search locations far to the south may still be relevant for finding floating debris, even if the bulk of the wreck has sunk much further north, due to prevailing currents.