Over the weekend, several initiatives mapped airports that could serve as potential landing spots for missing Malaysian Airlines flight MH370. WNYC first mapped large airports within MH370's flight range onto Google Maps; then David Strip used data from OurAirports to cast a wider net of potential landing spots and put that in Google Maps.
That's a good idea, but Google Earth is perhaps the more versatile tool for doing some proper research, especially as it has historical data with which to compare new satellite data as it arrives.
So I also made a KML file for Google Earth with potential airports, from the same OurAirports data, but casting an even wider net — over 3500 potential landing spots. Here it is. (Use it in conjunction with the suggested search location KMZ file published in the previous post.)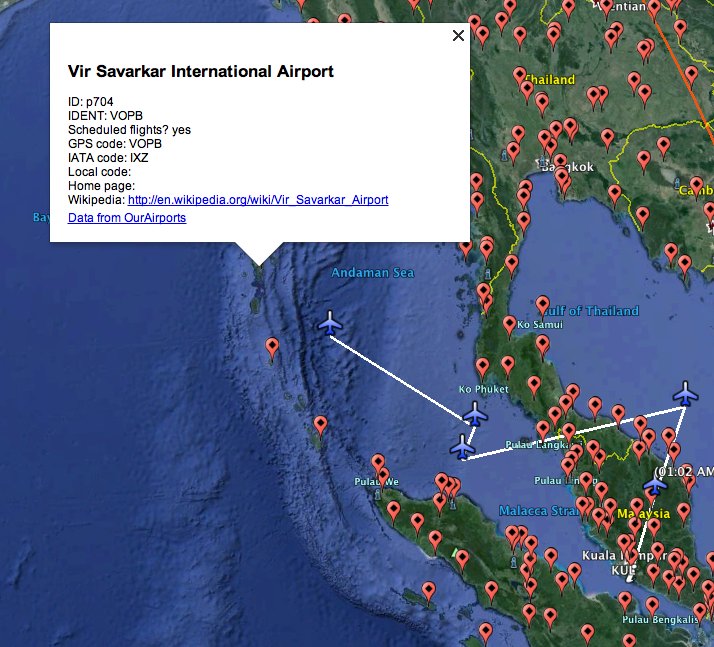 What does this file contain? All Asian airports, minus Russian airports, plus Western Australian airports. I've taken out seaplane bases and heliports, but left in closed airports. I cleaned up the data for two Western Australian airports with faulty coordinates.
Why keep small and closed airports? Because in a search,  this file should essentially be used to rule out potential airports. If MH370 landed somewhere (as opposed to crashing) then that airport will most likely turn out not to be on this list, or else be a small or closed airport that has recently undergone expansion. (However: Keep in mind when scouring Google Earth that satellite data may be a few years old).
I used Google Outreach's Spreadsheet Mapper to convert the orignal data to KML. At just over 3500 data points, I was definitely pushing the limits of that technology. Here is the spreadsheet I used for this KML file.