[March 9: Read the follow-up article, Three trajectory models of the Chelyabinsk meteoroid compared]
[April 5: Help scientists to more accurately calculate the trajectory. Visit www.russianmeteor2013.org to contribute videos or help with the analysis.]
Two weeks on, Ogle Earth's Chelyabinsk meteoroid story has led a interesting life. In the first hours after it went live in the early hours CET of Feb 16, it was first tweeted by Bad Astronomy's Phil Plait and then more broadly by the astronomically minded community. After a day, the wider tech and science crowd found it. Two days later, mainstream media discovered it. A week later, it saw a second wind as a meta-story about citizen science. It's received a respectable 100,000 visits so far, not quite making it Ogle Earth's most popular story ever (that honor still goes to Finding Osama Bin Laden's Abbottabad mansion with Google Earth from May 2, 2011).
However, it is by far the most commented story in the blog's history, with around 340 comments to date, many making real contributions improving on the initial approximations. Thanks especially to early work by Sean Mac, SebastienP, Robin Whittle, liilliil and the other Russians who provided help with language and localization. If this article is an example of citizen science, it's important not to overlook the collaboration that went on in the comments section. I was actually traveling in Africa for most of the past two weeks, not able to do more than moderating the comments passively.
I now know of four scientific teams that are in the process of homing in on a more precise trajectory for the meteor, some of whom have gotten in touch with me and who are now in touch with each other:
NASA's data fixes a position for when the meteoroid reached its maximum brightness, given as "54.8°N, 61.1°E" at a height of "23.3 km". These figures are given to three significant digits, or to the first decimal place; I don't know if these are at the limits of the instrumentation used or artificially downgraded measurements, but assuming that these are natural bounds for error, I visualized this location in Google Earth as a rectangle at a height of 23,300 meters, delimiting the area between 54.75°-54.85°N and 61.05°-61.15°E. You can download the resulting KMZ file for Google Earth and use it together with the two (one and two) existing KMZ files from the original article.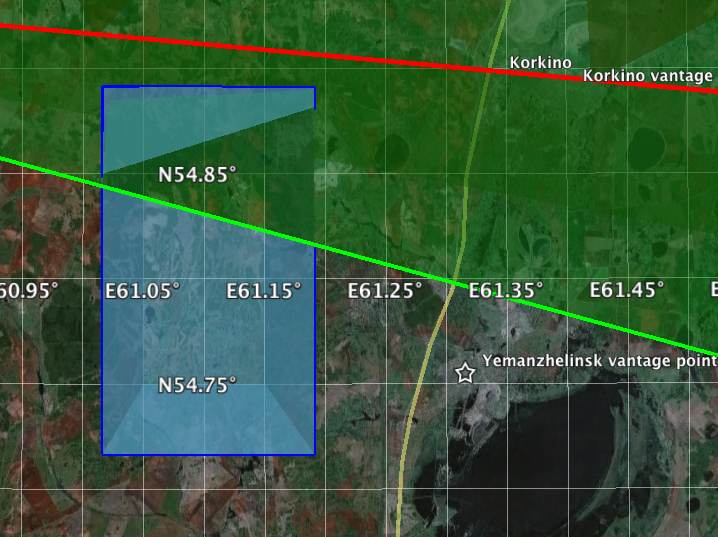 As you can see from the resulting interaction with the original KMZ files, NASA's calculated rectangle neatly intersects with the calculated inclined plane along which the meteoroid was observed from Revolution Square in Chelyabinsk. The red line was my most likely trajectory, with the green line as an upper bound. That is a good match indeed! If anything, I think NASA's results could be nudged a little northwards, considering how the very accurately geopositioned video from Yemanzhelinsk resolutely places the trajectory slightly north of the zenith there.
If you add the Czech results (linked to above), you find a ground path that is practically identical to the red line (they have the same azimuth) but with an angle of attack that is shallower than the one I calculated from the vantage point in Revolution Square. As a result, their trajectory appears at first blush to overshoot the main (or a major) crash site at lake Chebarkul, though of course it is also plausible that meteoroids at the end slow down and start falling to Earth. The shallower trajectory does place their path further away from NASA's calculated rectangular "window".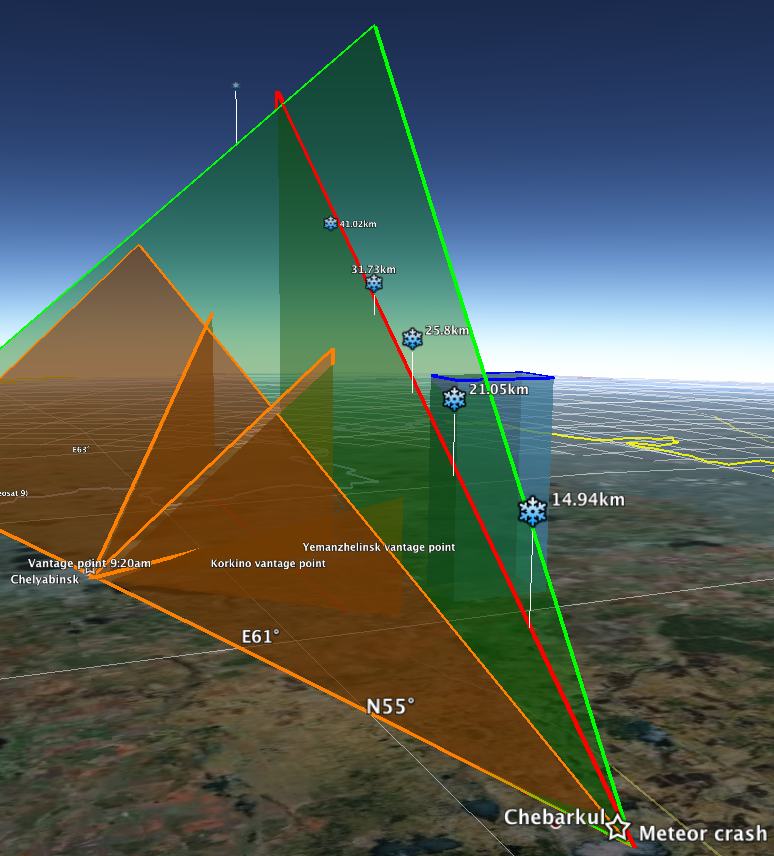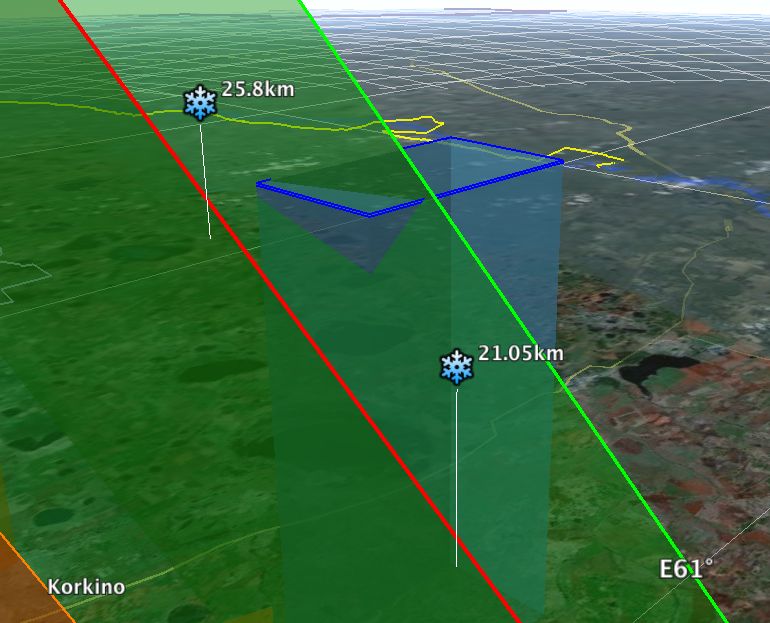 I'll continue to update this post with improved scientific results as they arrive. Stay tuned!
[March 9: Read the follow-up article, Three trajectory models of the Chelyabinsk meteoroid compared]
[April 5: Help scientists to more accurately calculate the trajectory. Visit www.russianmeteor2013.org to contribute videos or help with the analysis.]