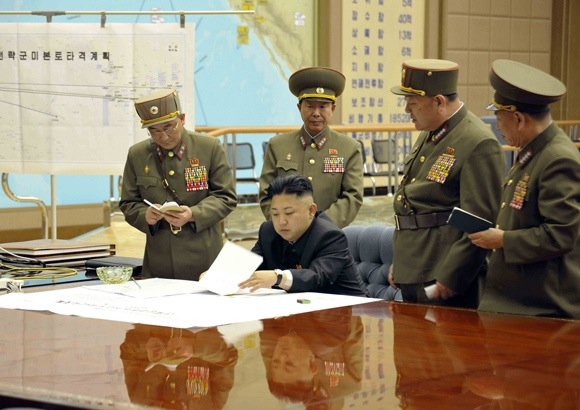 Evan Osnos in the New Yorker today:
… [T]he official Korean Central News Agency released an unusually showy photo of Kim huddled with generals over what the caption described as "plans to strike the mainland U.S.," complete with a chart in the background depicting trajectories of North Korean missiles hitting American cities.
I'm on the road so this will be brief: The paper map visible in that photo shows the Pacific on the left and the continental US on the right, with missile trajectories drawn from North Korea to a number of locations in the US, including Hawaii. The only problem: Missile trajectories from North Korea to the continental US fly over Kamchatka and Alaska… because the Earth is not flat.
North Korea's military probably knows about great circles, but its propaganda department obviously failed geography. Or perhaps the photo above depicts Kim Jong-un providing on-the-spot cartographic guidance to his aerospace engineering team, and the problem will by now have fixed itself.