There is a juicy scandal unfolding in India's smallest and richest state, Goa, where the State Assembly's Public Accounts Committee (PAC) has prepared a report indicting ruling Congress Party politicians for benefiting from illegal mining in the state. Illegal mining is estimated (by the Hindustan Times) to have cost Goa over USD 600 million over the past five years in lost tax revenues, turning this into a whopper of a story.
Reporters are having a field day with the clumsy ways in which local Congress Party bigwigs have maneuvered to derail the report. Congress Party members on the PAC committee refused to sign the report, but that didn't deter the chairman of the committee, Manohar Parrikar, from submitting the report to the State Assembly. The (Congress-affiliated) speaker of the Assembly, Pratapsingh Rane, then refused to table the report, on account that it is "merely a draft":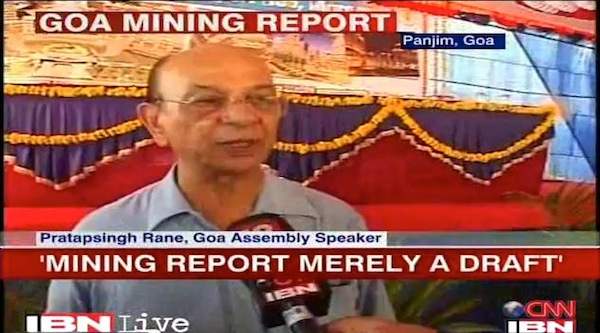 On October 8 Rane sacked Parrikar, who also happens to be the leader of the opposition, from his role as chairman of the PAC committee. Parrikar then vowed to release the findings to the public, "using government documents and records that are in the public domain," reports the Hindustan Times.
Part of those public domain records are from Google Earth, The Economic Times reports:
According to highly placed sources, the PAC has based its findings against [Congress Party leader Dinar] Tarcar on the satellite images procured by the Google [Earth] tool.

The mine operated by Tarcar through Power of Attorney at Temebocheo Dongor in rural Goa (survey number 59/51) has been found to have extracted several million tons of ore. […]

"The Google pictures of 2003 clearly show that the area was a virgin land and it is not possible to agree with any fallacious contention that several million tons of ore dump accumulated has been done on account of earlier dumps accumulation," the report mentioned.
India's national Directorate of Mines and Geology has now also taken an interest in the mine, ordering it to immediately cease production until it is investigated. An article by Goa's Herald spells it out for us:
Tarcar has cheated the government by avoiding huge amounts of export duty by under-invoicing of his exports.
When presented with evidence of massive ore dumps that could not have been produced within quota, his mining company contended that these were from earlier activities. Google Earth's imagery from 2003 effectively catches the company in a lie.
So: Where is Temebocheo Dongor in Goa, and is there an mine there that didn't exist in 2003?
Browsing Goa's hinterland with Google Earth, you'll find it riddled with open-pit mines — mining is the second largest industry in Goa, after tourism.
Two pieces of information allow us to pinpoint a strong candidate for the mine in question. The first is that we know there has to be imagery of the mine from 2003 in Google Earth. About two thirds of Goa satisfies that criteria.
The second piece of information comes from the Herald article, which points out that the mine is "at Caurem and Maina."
Those places are easily found in Google Earth via search. Once there, turn on historical imagery, and voilà, here is the closest high-resolution imagery available from 2003, taken on Feb 10 of that year, showing virgin lands and an embryo of a mine: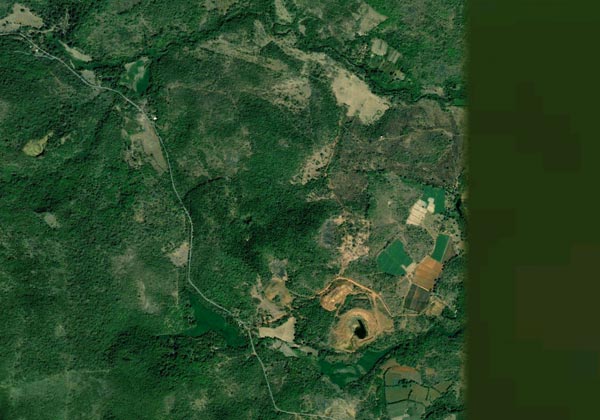 Versus the current view, from March 27, 2011: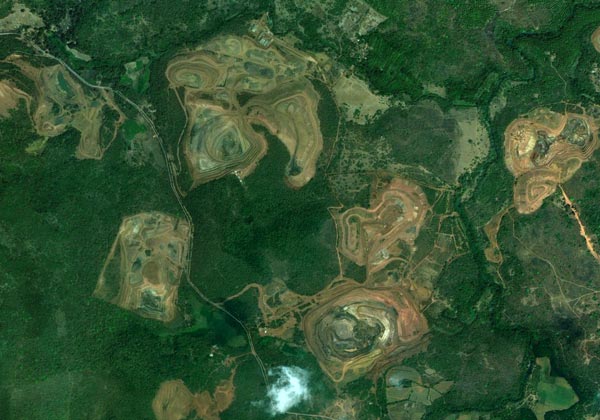 If you want to see the historical imagery yourself, here is the KML pointer to it in Google Earth. Or have a look for yourself in Google Maps:
Absent verification on the ground, we can't be 100% certain that this is the Temebocheo Dongor mine, but it sure looks to be a strong candidate.