The BBC today revealed that near-infrared satellite imagery taken of Egyptian archaeological sites have led to some significant new potential discoveries, including the identification of 17 candidates for buried pyramids (of which two have been confirmed, according to the BBC).
The University of Alabama's Dr Sarah Parcak is the lead researcher in this quest, and she will feature in a new BBC documentary, Egypt's Lost Cities, airing on May 30, 2011. It will be viewable online to anyone with a VPN or proxy into the UK.
Eager to check out this new research in a region and topic this blog has covered with much interest before (Amarna, Middle Egypt, Elephantine, Kom Firin, Khufu) I went looking to see if any of the raw imagery used by Parcak was available online, perhaps as part of her research findings. Alas, after much Googling, none of the research seems to be publicly available (yet?), so it appears we will need to watch the documentary to find out more. (BTW, Parcak wrote the book on satellite remote sensing for archaeology.)
Meanwhile, a short video excerpt (viewable by all) has the presenters looking breathlessly at infrared imagery from Tanis, which appears to reveal a hitherto hidden cityscape for this ancient Egyptian city. However, the presenters oversell the case somewhat: Tanis has been extensively excavated for some time, and its foundations are documented; they are definitely visible on Google Earth's base imagery, though we get a somewhat clearer view at infrared wavelengths. So, just to be clear, Tanis isn't a "lost city" that has just been found, as the documentary's title might lead you to infer. Here's the location in Google Earth, with and without the infrared image overlaid (taken from the Daily Mail's story):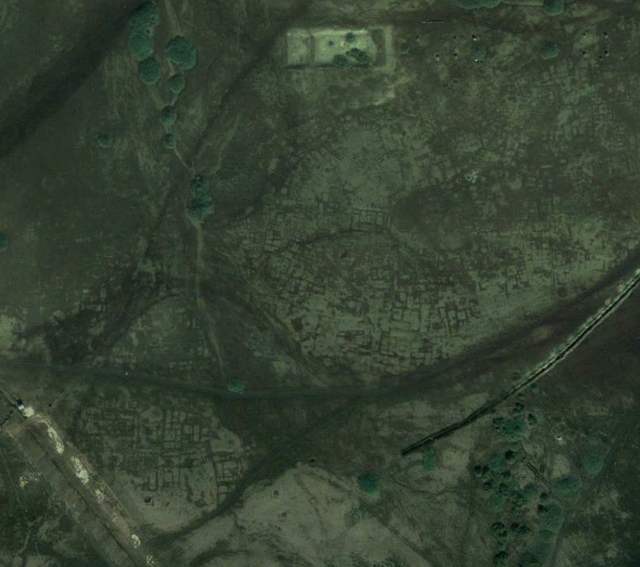 Another BBC press handout is more promising, however. Not far south of Saqqara, near the Pyramid of Khendjer, an infrared image is marked to show the location of one of the buried pyramids. It certainly looks plausible that this feature turns out to be a newly discovered pyramid: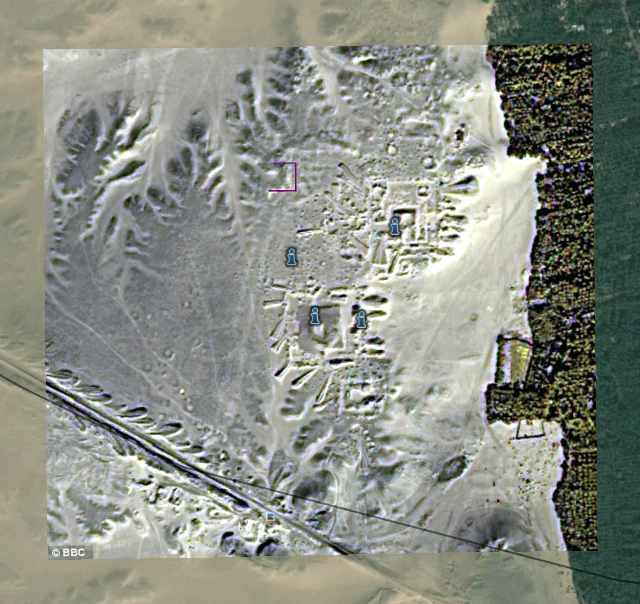 In the absence of any further information online, we'll have to wait on the documentary to tell us whether an excavation corroborated the promise of this particular image.
I've overlaid both images in Google Earth so you can check them out for yourself. Download this file, and open it in Google Earth. Double-click on an overlay to zoom in. Be sure to play with the opacity slider for each overlay to see how the imagery compares with Google's own base layer. In both locations, there are multiple versions of the base layer from multiple years, so do check to see how the site has changed over the years (by using the historical imagery slider in Google Earth).